More Than Just An App.
Bossman Fitness is more then just an app. It's a "Game Changer"
Bossman Fitness changes the game when it comes to online personal training apps. Our monthly subscription allows you to be the "Boss" of your health and fitness by giving you a number of different options to choose for whatever health, fitness, and athletic goals you are aiming for. Once you become a member of our team you will have access to everything here and new plans will be loaded up every single month to give you more options to choose from. Whether you are training for a marathon, or an obstacle course race or maybe you just want to get super fit and build lean muscle while loosing weight everything will be sent to your phone and allow you to choose your own path. You are the "Boss" of your health.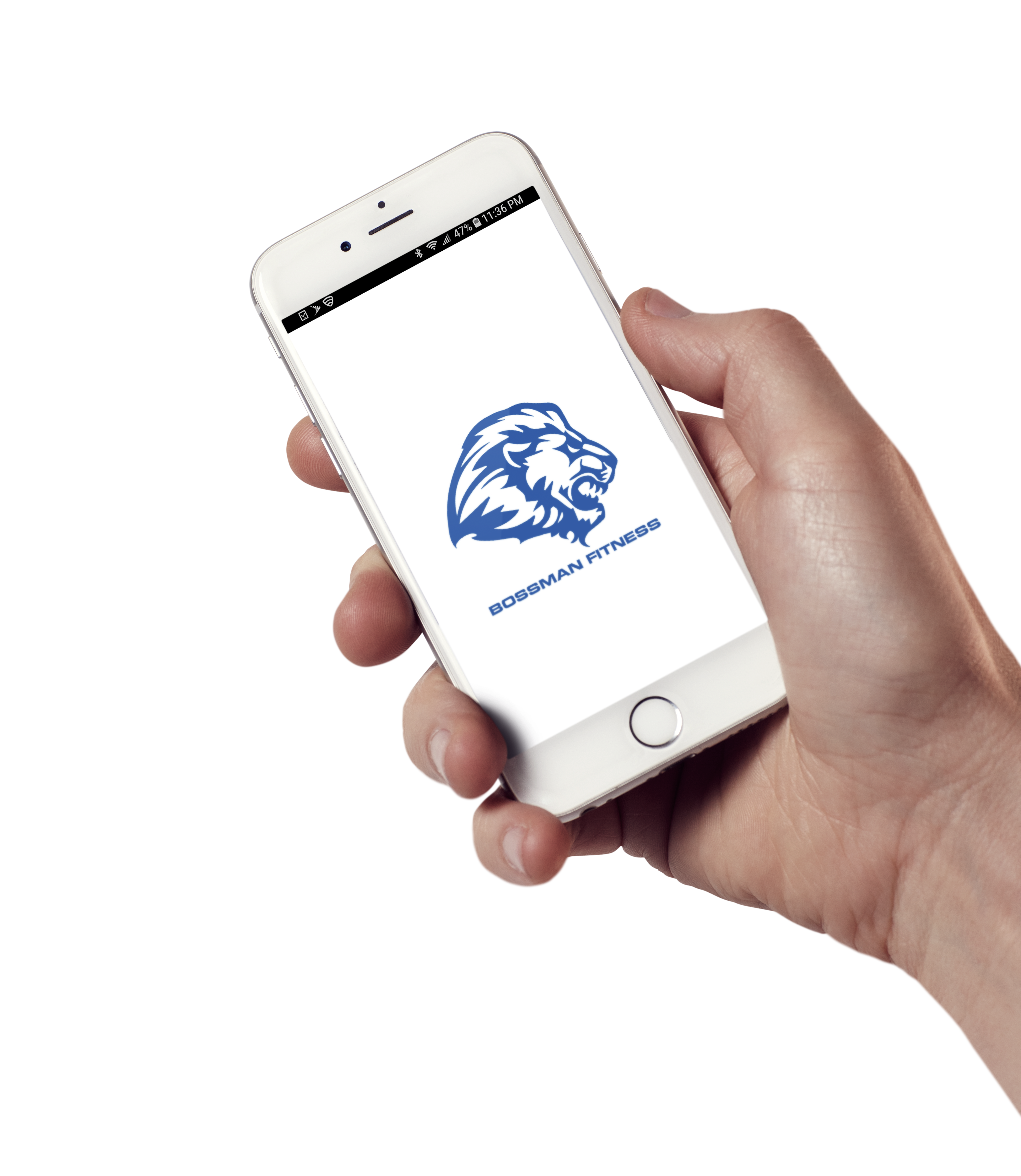 Structured Workouts
Are you tired of the cookie cutter approach of most mobile apps? You know the ones that say do 4 Sets of 8-10 reps of these 5 workouts? Yeah those..those plans are lazy.  Bossman Fitness is the only app available that takes a customized approach to your training. Having over 20 years industry experience and having worked with thousands of clients we have written programming for clients that actually works. Whether its fat loss and weight loss, or training for a race we have included a number of different programs for you to choose from and we will be with you every step of the way through our online coaching in our private Facebook Group.
Customized Training Plans
Customized Running Plans
Customized Obstacle Course Racing Plans
Customized Strength, and High Intensity Training Plans
Mobility Protocols
Nutrition
Let food be thy medicine and thy medicine be thy food. Hippocrates had it right and I know first-hand the importance of nutrition. As a former college wrestler turned fat guy I had battled with nutrition for a long time. There is no better performing enhancing drug then food. Our customized meal plans cover all spectrums of nutrition. Once you become a client you will have choices from Vegan, Gluten Free, Dairy Free, Metabolism Boosting, Carb/Calorie Cycling meal plans with menus. There is no one size fits all when it comes to nutrition and we have written plans with that in mind.
Customized Meal Plans
Fat Loss/ Weight Loss Training Plans
SUPPORT
You aren't just signing up for the app. You are signing up to join a community with the same goals, struggles, and challenges. I am making it my mission to be available everyday to all my clients guiding you, coaching, supporting you, and motivating you to hit your goals. We are only releasing a select number of spots for our online coaching program so that we can keep our community strong and committed.
Video Demonstrations
Private Facebook Group for Motivation
Monthly Mastermind Calls
Ongoing Personal Coaching and Motivation
Contests and Prize Money
Bossman Shred Challenge
February 1st we launch our $1000.00 Bossman Fitness Challenge for our customers. This is an 8 Week Transformation Challenge. Inside the app you will find a variety of training and meal plans to choose from. The transformation challenge is not just about losing weight and having a massive structural change it's about the mind, body, and spirit. It's about your story and your goals.  Once you sign up for the challenge and join our Facebook Group you will be entered into the challenge.  We will announce the winner on June 1st 2019 so that anyone from now until 8 Weeks prior to June 1st will have the opportunity to share their story and a chance to win the $1000.00
Join The Team
When it comes to our health we all have to ask ourselves "What do I want?" Our bodies are a complex-systems like nothing in the world and it is no wonder people struggle with nutrition, exercise, and stress.
Bossman Fitness was created to help answer this very question by giving you choices. Our fitness platform is more then just an app. I wanted to create something that was completely unique to the market. In doing so we created a tribe of like-minded hard-working people who pick their own path.
I will make the promise that I will be right with you every step of the way pushing and coaching you to make sure you hit your goals.
Maybe you want to lose weight and get into the best shape of your life? Maybe you want to run a marathon or do an obstacle course race? Whatever the answer is our fitness platform gives you the power to choose your destiny.
You won't find any cookie cutter programs on here. You will find customized training plans and meal plans along with personal coaching from me. You will also be a part of an amazing group of people in our private Facebook Group that will constantly feed off each other's energy.
Join us for the $1000.00 Bossman Shred Challenge and let's #hitbackharder in 2019!
Ready to start your fitness journey?  Questions about the Bossman Fitness App?  Use the form below to get in contact with fitness expert Matt Bouback.